Last week I wrote about the new pairing of collateralized installment sale ("C453") transactions with "separate third-party lending that is available to our sellers, if they so choose and if they agree on terms with the lender."
Now I can announce the roll-out of a new opportunity for interested readers to participate in the loan fees which these transactions generate.
Please understand that the loan fee is the lender's, not S.Crow Collateral Corp.'s, and the decision is the lender's. Nevertheless, if you bring a C453 seller to S.Crow Collateral Corp. and that seller decides on a loan with the third-party lender, you have every right to ask to share in the lender's loan fee, just as you have the right, with full disclosure, to ask for a referral fee from S.Crow Collateral Corp. for the C453 transaction (assuming that you are not precluded from doing so by any requirement of your profession).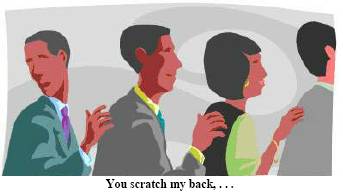 So, if you know someone who is preparing to sell a capital asset—real estate (whether business or personal), a business, a partnership interest, a professional practice, whatever—and this person wants to defer (and therefore minimize) the capital-gains tax on sale, don't just sit on your hands about it. Contact us about the possibility, and thereby do yourself and your friend a favor.
I use the word "favor" there in the colloquial sense of an act of kindness, although your action is profit-motivated as well as being a kindness.
That observation is my cue to speak my piece on the point: Engaging in transactions for profit, when both parties are free to participate or not, is itself a kindness.
Here's why: When seller and buyer freely choose to enter into a transaction together on terms which they both freely accept, then it is necessarily so that each of them judges the deal to be advantageous. That being so, both of them necessarily gain advantage by the exchange of one thing for another. If "A" provides a service or product at a price which "B" deems to be acceptable, then two mutually reinforcing judgments are being made: "A" is deciding that the money is worth more to him or her than retaining the product or service would be, and "B" is deciding that obtaining the product or service is worth more to him or her than retaining the money would be. Both of them get what they want.
Therefore, if you acquaint your friend with the opportunity for a C453 transaction and separate loan and your friend decides that the benefits of the C453 and the loan are worth the transaction costs, then not only have you performed a kindness for your friend, but also you have helped your friend and yourself to profit financially.
That illustration demonstrates the truth that when transactions are freely chosen and not compelled, every participant benefits, and every participant is better off afterward, according to his or her own evaluation of benefits and costs.
Feel liberated, therefore, to pursue your own advantage, because in so doing you will be pursuing your friend's advantage, too.—Stan Crow