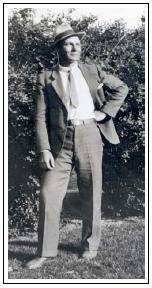 My story is a contrast to that told in the Robert Anderson play, "I Never Sang for My Father", which was staged in New York in 1968, starring Hal Holbrook as the son who felt guilty for not having loved his father. (Gene Hackman played that role in the 1970 movie version, with Melvyn Douglas as his father. The play was staged again in New York this year.)
I did sing for my father—quite literally—but my point here, as Father's Day approaches, is to express my gratitude to him, for one of the greatest gifts he gave to me: his persistent optimism in the reality and potential of opportunity.
His optimism in the reality and potential of opportunity is all the more remarkable, because he lived through the Great Depression, World War II and the Korean War. During his career as an entrepreneur in small business, he was poor, he was prosperous, he was poor again, and he prospered again. He said to me, "Do your best", and, "You can be what you want to me." Indeed, he said, "You can be President, if you want to be."
Yes, part of that was his confidence in ability, which as a biased father he thought he saw in me. The greater part of that, however, was his confidence that there is an order of things, in which doing one's best ordinarily—although not always—brings its own reward. Why? Because opportunity is real, and it is full of real potential for the one who sees it and pursues it.
There are those who might say that it was easier then, when taxes were lower and regulatory hurdles were lower. There is truth in that, but my point is that my father, and many like him, believed in the reality and potential of opportunity in spite of some of the greatest challenges that the world had ever faced.
So, here's to Dad! I sing his praises again, in gratitude for a priceless gift which he made real in me: optimism in the reality and potential of opportunity.—Stan Crow