During a several-week visit to England which my wife and I enjoyed in June, we participated in a social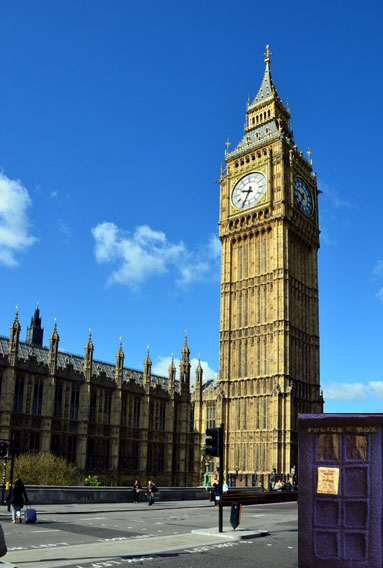 occasion with two English couples whom we had not met previously. The get-acquainted part of the conversation followed the rather typical pattern of what-do-you-do, tell-us-about-your-family, our travels in the U.K., their travels in the U.S., and so on.
Before the question was directed to me about what I do, I thought about the rolling eyes I rather often see, even in the U.S., when I speak of helping people to defer their taxes, so I said, "I'm the Doctor, and also I help people to defer their taxes."
Their first reaction was that I was saying that I'm a medical doctor. I said, "No, you know: the Tardis, "Doctor Who", the Time Lord, and all that." I was not claiming to be David Tennant or Matt Smith in the "Doctor Who" show, so my initial statement clamored for explanation.
"I've always been fascinated with the idea of time travel," I said, "and my theory is that from God's point of view all of time co-exists simultaneously—past, present and future. I really would like to be able to dial a time as the Doctor does, and then go to that time to see the sights, hear the sounds, and smell the smells. For example, a recent photo in our newspaper of a street scene in Boise in 1927 made me want to walk among the people then: to hear them, to mingle with them and see them pass by, to know something of how it felt to be in Boise in 1927."
With that somewhat diversionary tactic, no English eyes rolled about tax deferral!
As I've thought back on those moments, however, I have realized that there is more connection than one might first think, between tax deferral and time travel, especially in regard to collateralized installment sale or "C453" transactions. That's because C453 transactions have the same effect as taking one's tax obligation 30 years into the future and leaving it there to await one's arrival there in the regular course of time.
So if you, too, hanker for time travel, there's one practical way to achieve that outcome, in one context. Just bring me your capital-gains-tax obligation and let me take it 30 years into the future for you. I'll even let you come along.—Stan Crow