After he read the last two weeks' posts on this blog, Mr. I. Didit, a widower whose health is not the best, came to us this week in search of a solution for his estate-tax problem. His concern is the federal estate tax, which is currently scheduled to rise to a 55% rate as of January 1, 2013, with only a $1 million exemption instead of the current $5 million exemption.
After many years of hard work to build his estate, and many years of paying income taxes on all that he earned, Mr. Didit does not want another 55% of his estate go to the government instead of to his children.
His problem is complicated by Section 2035(e) of the Internal Revenue Code, which says that if a person transfers "an interest in any property . . . during the 3-year period" before the person dies, then the taxable estate "shall include the value of (the) property".
Therefore, in general, if Mr. Didit were to give his estate to his children now and his death were to occur within three years, the gifts would not remove the assets from his taxable estate. Or, if he were to make the gifts and then live three years after all, a gift-tax liability would be incurred, and his children would have only a carry-over of his low basis in the gifted assets, instead of a stepped-up basis.
Mr. Didit told us that his estate consists of the following: (a) Two farms (including mineral rights) having a total value of $8 million; (b) his summer home in Florida, worth $2 million; and (c) a farm-equipment business worth $5 million. His tax basis in these assets is essentially zero.
His question to us was this: Because he may not live three more years, is there a way for his children to receive his assets without any estate-tax or gift-tax cost, while minimizing the income tax for both himself and his children?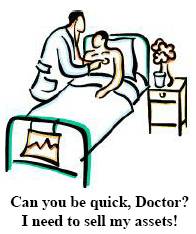 We said, first, that anything that we propose for his consideration should be implemented only with the participation, advice and approval of his attorney and tax adviser. Having said that, S.Crow Collateral Corp. proposed, naturally, to do what we regularly do: to buy and re-sell in a way that accomplishes our seller's tax and business objectives.
We proposed to buy his farms and his Florida home on a $10 million no-money-down, long-term installment contract. Because these assets are farm and personal-use property, respectively, the contract is exempt from the $5 million limitation of Section 453A on tax deferral. We proposed to buy his farm-equipment business on a $5 million no-money-down, long-term installment contract, within the $5 million limit of Section 453A. In this way, Mr. Didit defers the entire capital-gains tax on the sale of his assets under Section 453, the installment-reporting section of the tax code. Under that section, the tax on the gain on sale is due pro rata as and when (and if) the principal of the purchase price is paid. The contract provides that the entire principal will be due at the end of the contract term, with no interim amortization, so the capital-gains tax is not due until the end.
Achievement #1: All of the capital-gains tax is deferred for many years.
Because the installment contracts are full-price contracts, they fit within an exception in Section 2035(d), which excludes from Mr. Didit's estate any asset that has been sold, even on the day before death, in "any bona fide sale for an adequate and full consideration in money or money's worth." So, the installment contracts replace the farms, home and business in Mr. Didit's estate.
The key then is to make the term of the installment contracts long enough so that, when combined with the discounts for risk and non-marketability, the present value of the installment contracts on the date of Mr. Didit's death, including principal and cash flow, does not exceed $1 million. If that is done, no estate tax is due because of them.
Achievement #2: The estate tax is avoided.
S.Crow Collateral Corp. then re-sells the farms, home and farm-equipment business to Mr. Didit's children at the assets' full value, for cash, with that cash provided and financed as I described last week. Because of their purchase, Mr. Didit's children enjoy a stepped-up basis in the assets. They may re-sell without taxable gain, if they so choose, or they may retain the assets and begin taking depreciation all over again.
Achievement #3: The children enjoy a new, stepped-up tax basis.
Achievement #4: Because the children purchase the assets at full value, there is no gift-tax liability.
After the deal closes, S.Crow Collateral Corp. makes installment-interest payments to Mr. Didit while he remains living.
Achievement #5: Mr. Didit's retirement income is provided.
After his death, his children inherit the installment contracts and receive the installment-interest payments from then on. That way, the installment-interest and final payments become a source of funds for the children to pay the interest and principal on their loan. The installment-interest payments and loan-interest payments substantially balance each other and become tax-neutral.
Further, as I said last week, the lender will agree to limit its recourse on the loan, so that if S.Crow Collateral Corp. were to fail to pay, the children would be off the hook to that extent on the loan.
Achievement #6: Financing is provided to the children, and repayment is funded.
Many years from now, the children will owe the capital-gains tax when the principal on the installment contracts is paid, but the capital-gains tax then will be a small fraction of what it would have been now, in terms of the present value of that tax today.
Achievement #7: The capital-gains tax is effectively reduced, because it is deferred.
Of course, Mr. Didit could give his assets to charity and escape the estate tax that way. His desire, however, was for his children to have his assets. This is a way to accomplish that in the most-tax-efficient way.—Stan Crow