Science is making remarkable strides in understanding how the human brain works. So far as I know, though, not even one published study, until now, has examined how the human brain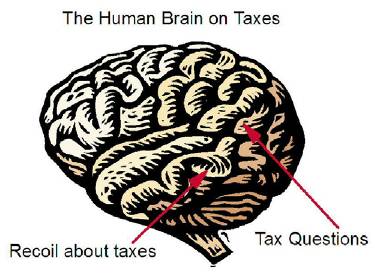 works in regard to taxes. I'm not even sure that it's been discovered, until now, which part of the brain decides tax questions, or which part recoils from taxes.
To try to fill that gap, I've been conducting my own research on the brain and taxes. Today I'll share the results with you, before they're published in Nature, Science, or Proceedings of the National Academy of Sciences. Those publications will just have to wait their turn.
Conclusion #1: Taxes and emotions are closely connected.
What gets Congress more worked up that anything else? Taxes. What gets many people more excited than sex? Raising taxes, or lowering them. What's really scary for a tax adviser? Saying "yes" for the first time, on any tax question.
Conclusion #2: What we know about taxes, and what taxes really are, may be two different things.
For this conclusion, in addition to my own observations, I rely, among other things, on the book Everything Is Obvious, by Duncan Watts. We learn from the book that not everything that is obvious is really true at all, and that our common sense is "a shockingly unreliable guide to truth", as it was put in a book review entitled, "Knowing What Isn't So", in The Wall Street Journal, April 5, 2011, by Christopher F. Chabris, co-author of The Invisible Gorilla: And Other Ways Our Intuitions Deceive Us. The book Everything Is Obvious cautions us that our intuitional decisions may actually be nothing more than guesswork.
Conclusion #3: Tax professionals' brains are human brains and function accordingly.
Many taxpayers believe that tax professionals reach their conclusions entirely analytically. As do other people, however, tax professionals sometimes are pressed to decide before they analyze.
Conclusion #4: If you're a tax professional, marry someone who isn't.
Get some balance in your life.
Conclusion #5: When you recoil from taxes, try to relax and take one step at a time.
I received a 25-page 1099 the other day. I recoiled. Any normal person would. If that doesn't tell you that the tax system is broken, what will? I think maybe my entire brain recoiled. The tax system is what it is, though, so we work with it, one step at a time.
Conclusion #6: Use your recoil. Let it prompt you to look for solutions elsewhere.
If you cringe at the tax you will face when you sell something, it's likely that you haven't yet looked in the right place for the right answer. If you keep on looking in the same old places, what good will that do you?
Conclusion #7: "No" and taxes don't have to go together.
Brains that deal with taxes should be able to find a way to "yes", just as other brains do in other contexts. "No" may be the instinctive or easiest response to your search for a better way. That doesn't mean "no" is the right response.
Conclusion #8: Sympathize with your tax adviser. How would you like being expected to know everything?
Show some feeling. If nothing else, it will surprise your adviser. Try singing a variation on the 1970s song "Feelings" by Morris Albert: "Feelings, nothing more than feelings, trying to forget my feelings of no. Teardrops rolling down my face, trying to forget my feelings of no."—Stan Crow