An English judge in 1854 said, "Hard cases make bad law." That was for two reasons: (1) A hard case may lead to creation of another exception to the general principle; and (2) a hard case may lead to a strained interpretation in an effort to accommodate the situation at hand.
Now I see that the same is happening in economics: hard times lead to bad economic thinking.
In the current concern over high gasoline prices, an old economics idea (from the 1865 book, The Coal Question, by William Stanley Jevons) has re-surfaced as a justification for not doing anything to increase the supply of oil (and therefore gasoline). Jevons' idea, called "the Jevons paradox", was that if technological advances increase the efficiency of use of a fuel (such as coal), then consumption of that fuel will increase and the greater efficiency won't accomplish anything overall.
Much the same idea is promoted by David Owen of The New Yorker in a new book, Conundrum, which is an argument for "sustainable" living and against technological advances.
Now this same ostrich-in-the-sand approach is being used to say that gasoline prices necessarily will remain high even if supply is increased, because consumption would just increase if the price were to decline, and that would cause prices to rise once again.
I readily admit that a drop in gasoline prices could cause gasoline consumption to increase—but that would mean that economic growth would be increasing, too. Therefore, even if the price of gasoline were to rise in response to increased demand, those prices would be supported across a stronger, richer economy. As between high prices in a strong economy and high prices in a weak economy, it's not hard for me to choose the former, even if that were the end of the story.
For the advocates of doing nothing about high prices, that is the end of the story, as though the universe of economic effects ends with one price decline and one subsequent price rise. It's an "end of economics" argument that is comparable to what was once called "the end of history" with the fall of the Soviet Union, as though nothing significant would ever occur again.
The Jevons paradox and the "end of economics" thinking ignore two elementary economic factors: (1) Freedom of entry into the market by new participants, and (2) cost of production.
Here's a simple-to-understand principle that rebuts the Jevons paradox, the Owens "conundrum", and the "end of economics": In any market which is open to new producers or to additional production by existing producers, any effort by existing producers to charge prices that far exceed the cost of production will induce new producers to enter the market with new production, or cause other existing producers to increase production, and, either way, to undercut the current price.
Therefore, in a free market, prices will not self-sustain at whatever level they may happen to reach, because new production will undercut those prices. And that fact is why removal of government controls over production of oil would in fact result in lower gasoline prices.
Government is now limiting the ability of producers to enter the market and of existing producers to increase production. In so doing, government is preventing the price undercutting that would naturally occur in a free economy.
In a free economy, increased production may lead to greater demand, and that would tend to lead back toward higher prices if that were the end of the story. In a free economy, however, yet more production occurs, the artificial price is undercut, yet more economic growth occurs, yet more production occurs again, and so on.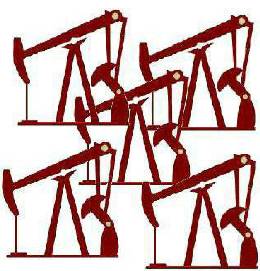 In the thinking of the "sustainability" advocates, however, this virtuous cycle can't occur, because "we're running out of oil", or, in their minds, we should be running out of oil. The opposite is true, however; in North Dakota alone, new technology is making the supply of oil essentially the equivalent of infinite. Oil is available to us for as long into the future as we can see. If freedom is allowed to work its magic, the price of gasoline will seek a level at which the maximum number of producers will produce the maximum quantity at the most efficient profit above the cost of production.
One more point: There are those who say that the price of oil is set globally. They miss a key point of their own statement, however, and that's the word "set". If the United States and the other free-market economies allow oil production to seek its natural level, it will no longer be possible for a cartel to "set" a price for the whole world.
It's not a given that the U.S. must enter a long period of decline.—Stan Crow