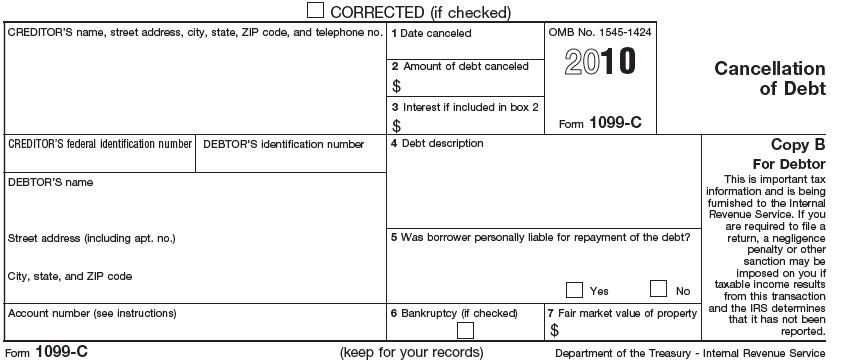 If we needed any reminder that the economy is still struggling, it comes to us frequently from borrowers whose commercial properties are worth less than the debt on them, and who face foreclosure. By the time we hear from them—such as two different borrowers in just the past two days—they have come to accept the obvious: that they're not going to be able to retain the property. They still want to save their credit, of course, and, if they're sufficiently informed, they're concerned about the tax they may face when they lose the property.
That tax liability is an especially hard blow, because it seems so unjust: the borrower loses the commercial property, and then he or she gets hit with a tax liability when the lender writes off the part of the debt which wasn't paid from the proceeds of the foreclosure sale. Moreover, the lender is in complete control about when that tax liability arises, because the lender decides when (and whether, depending on the law that applies) to write off the uncollected part of the debt. Whenever it does so, it may send an IRS Form 1099-C to you, reporting taxable income to you in the amount of the written-off debt.
I am pleased to share some good news with you. A version of the "collateralized installment sale" offers a complete solution to the cancellation-of-debt tax problem: a solution that doesn't merely put off the problem; but ends the problem.
It can save your credit as well, but it won't save the property for you.
That is, it will accomplish these results, if the bank (or other lender) is willing to be satisfied with whatever amount it can collect by selling the property, without coming back to you to collect the remainder.
In a nutshell, here's what we do: S.Crow Collateral Corp. buys the property from you on an installment contract, at the amount owed. S.Crow Collateral Corp. then sells the property to the bank or other lender for that amount, which frees the lender to sell the property in its own way and its own time, unrestricted by the rules of foreclosure sales, and free of any redemption right. The price for our sale of the property to the bank is that the bank must assign your loan to us, and we then sell that loan to another lender which we bring into the picture. The terms of the installment contract are arranged to match the terms of the loan (which is no longer secured by the real estate), so that your loan payments—which will continue—will come right back to you as installment payments to you from S.Crow Collateral Corp.
Results: Your debt isn't written off, you won't receive that dreaded 1099-C, your property is sold rather than foreclosed, and your debt expense after closing is essentially matched by your new installment income.
(An aside: I believe that if the lender cancels debt on a property as part of a foreclosure proceeding, the amount that is canceled would be treated as capital gain to the borrower, rather than as ordinary income, because the foreclosure is a sale of the property. Forgiveness of debt on commercial property in a workout, however, would generally be treated as taxable ordinary income. If the workout borrower is insolvent or in bankruptcy, however, that ordinary income could be excluded.)
Shall we put this to work for your commercial property?—Stan Crow