An unintendedly illuminating conversation occurred between another lawyer and me last week. I think I came away from it knowing more than before, but what he said suggested that, if anything, he knew less afterward than before.
The conversation pertained to the meaning of two particular Idaho statutes, which I regarded to be very clear in their meaning. He read the same words which I did, but he expressed the view that there might be some hidden or unexpressed limitation or condition that, when known, would change the meaning of the words as actually expressed. He could not identify what might be unexpressed, but he said he wasn't "at ease" that the words meant what they said on their face.
He and I were not on opposite sides of any issue, and we were working together, not as competitors or adversaries. I was "at ease" with reading the words for what they said, but he could only be "at ease" if a government agency or court would tell him, "Yes, those words mean exactly what they say." He gets paid to be an expert in the law, but he is afraid to take a position as an expert would.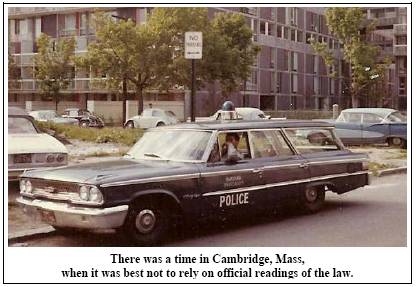 I have observed this kind of thinking for many years, but not often with lawyers. (Lawyers often try to cause words to be construed this way or that, to serve a client's interest, but the inability on the part of this lawyer to trust his own reading was new to me.) In our system, courts have the last word (unless overridden by new law) on the meanings of words in statutes and regulations, but until that last word is spoken, each of us has as much right to read for ourselves as the next person or any official does.
Because of what I do, where I usually run across this distrust of the meaning of words is in regard to taxes, as governed by statutes, regulations and rulings. It has been hard for me to understand that distrust—especially when the one who is afraid to take a position on the meaning of the words is a person who provides tax advice professionally.
After my conversation last week, I realized that deconstructionism—what was once an esoteric subject of discussion for philosophers (beginning with Jacques Derrida)—now affects even how much we pay in taxes, because so many people are unwilling to trust the meanings of words in the tax law.
If this view of things were to prevail, your life, liberty and property would not be secure, because there would be no fixed line to provide a boundary around them.
I write about this for three reasons:
1. Giving Your Rights Away
I write in the hope that readers will become more aware of deconstructionist tendencies in their thinking. Why do I care? Because the more widespread such thinking becomes, the more we become servants of whoever is in power, rather than free people with protected liberties. If you think as a deconstructionist, you are simply giving away your rights, and you have no one but yourself to blame for their loss.
2. The Law Is What It Is
I hope that you will resist the idea that the law is what officials say it is. We don't live in Russia, and we shouldn't act like it. We have the right to insist that the law as adopted be the law which governs.
3. The Good News
I want you to know the good news: deconstructionist thinking is doomed to failure, and necessarily so, because it is impossible to live one's life as a consistent deconstructionist. If we run a red light, we won't persuade anyone with an argument that red doesn't really mean red, but has other unstated conditions and limitations. When we raise children, we teach them to obey the rules we set, and not to seek excuse on the ground that there really are no lines between what is allowed and what isn't. When we vote for those who will serve in our legislatures, city councils, and Congress, we want the winners to vote in accord with their mandate, rather than to deny all meaning to the voice of the voters. We don't want someone in power, if they think that "x" means both one thing and its opposite at the same time. These and countless other examples demonstrate that we pursue fixed or stable meaning in our daily lives. It's impossible to live as a deconstructionist, so we shouldn't think as a deconstructionist.
Back to taxes: When it comes to how a transaction of yours will be taxed, don't give away to the IRS the right to say what the words in the law mean. The IRS is no more able to read the words than you and your advisers are. The IRS' opinion is its opinion. Insist on your right to read and on your right to settled meanings, or lose that right and much else besides.—Stan Crow