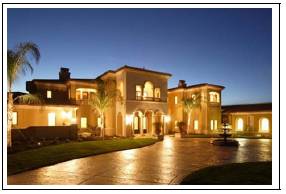 Q. I want to sell my personal residence and have an interested buyer. The problem is that unless there is a way around it, when I sell I will face a capital gains tax on about $2 million in taxable gain. I have been told that if I lease the home to the buyer for a year or two before selling it, the sale can be done as a tax-deferred exchange under Section 1031 of the Internal Revenue Code. Is that right?—Gaining Ground
A. Dear GG: Thank heaven for little URLs, such as the one for this page, which is your resource for a better way to accomplish your objective. Leasing a personal residence to convert it into an investment property to qualify for tax deferral in a 1031 exchange is a frequently chosen course of action, but it is unduly time-consuming and unduly risky, especially considering that a simple and quick alternative—one that doesn't require waiting a year or two—is at hand.
Market risk exists with the leasing idea, because 1031 exchanges are designed for markets in which prices are rising and in which leverage (debt) can be readily increased or maintained. For complete deferral, Section 1031 requires that the exchangor pay as much or more for a replacement "like-kind" property, and it does not allow any de-leveraging without paying tax accordingly now. In a falling market, that can be very difficult. The market now is not one of rising prices and readily available financing, and who knows about a year or two from now?
One cannot forecast with confidence what the housing market will be like when the time comes for the sale, when the lease expires. If the housing market then is much as it is now, it may be difficult to find a suitable, desirable, like-kind property within the stringent time limits of Section 1031 (45 days to identify, 180 days to purchase).
There's a further price risk. The combination of the trading-up requirement for a tax-deferred exchange, the prohibition on de-leveraging, and the subtle feeling that money that is held by the 1031 accommodator is then "free" money which one can spend without cost causes exchangors to be prone to pay too much for a replacement property. (Economists have documented the effect.)
Further, you would take the risk that your interested buyer might not then be able to purchase the property when the lease expires. Is it a sure thing that this buyer or another one will have the money and be able to qualify for any necessary financing one or two years from now?
There's more. Even if you are completely successful with the lease and subsequent exchange, there's a tax disadvantage that's often overlooked: your tax basis in the replacement property will be a "carry-over" basis from your tax basis on the home you're disposing of, so your depreciation deductions on the replacement property will be constrained. As a consequence, just so that you can defer tax at the capital-gains rate you will forego ordinary-expense deductions which you could have had by simply selling (rather than exchanging) and then buying. Why is that a good deal?
A quicker and less-risky alternative is to sell your home now as an installment sale under Section 453. You don't have to do anything to convert it to investment property, you don't have to take risk that the buyer won't pay (ask me how, if you wish), you defer the capital-gains tax, and you have no re-investment requirement whatever, no time limits, no "like-kind" requirement, and no requirement to buy anything. When and if you choose to buy, you will buy in your own good time, at the price that's right in the market then, with a new basis in the property with which to begin taking higher depreciation deductions.
Now that's worth singing about.—Stan Crow