For owners of C corporations a major hurdle to overcome is the double-tax problem for corporate earnings: the tax on the income at the company level, and the tax at the shareholder level when the money is taken out.
At the top federal corporate tax rate of 35% and a rather average 6.75% assumed for the corporation's state income-tax return, the total corporate rate on additional income would be 41.75%. If the money is paid out to upper-income shareholders as a qualified dividend, it will be taxed again for federal income-tax purposes at 23.8%, including the net investment income tax. If the state's tax on personal income is 6.75%, then the total tax cost could be an awful 72.3%.
Now, let's suppose that the corporation has a valuable capital asset which it wishes to sell and for which there is a ready, willing and able buyer, at a price of $5 million. Let's assume further than the corporation's basis in that asset is zero. If the asset were to be sold for cash, the tax cost of taking that $5 million out of the company could be $3,615,000 (at the 72.3% overall rate).
If instead the asset is sold by the corporation on a no-money-down, non-amortizing installment contract for $5 million due in 30 years with monthly interest throughout those 30 years, the up-front tax cost on the sale would be zero. In the meantime the company would have the non-taxable proceeds of a monetization loan in an amount nearly equal to the $5 million.
So, when the installment contract is paid in full at the end of 30 years and if the same tax rates apply then, the tax cost then would be the same as now, in numbers of dollars: $3,615,000, just as now—except that the tax will be paid in depreciated dollars because of inflation over the 30 years. If we have a 3% inflation rate for that 30-year period, the dollar will be worth 41 cents then compared with today, so the $3,615,000 will be worth only $1,482,150 in today's dollars—a 59% reduction in the actual cost of the tax. With that inflation rate, for the tax at the end of 30 years to cost the same as $3,615,000 does today, the total tax then would have to be $8,817,073, and that would require an overall tax rate then of 176%—not a likely prospect.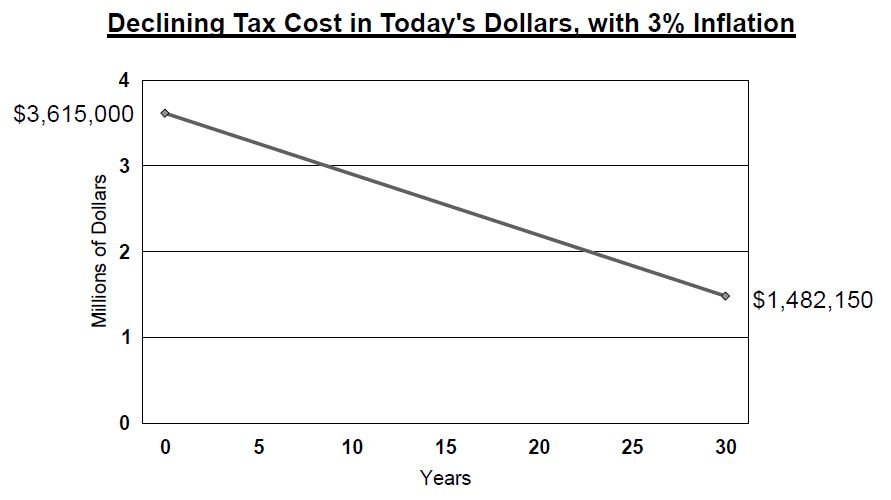 That's a long way of saying a simple fact: putting off the tax reduces the cost of the tax. If the tax in 30 years remains at today's $3,615,000, and that is worth only $1,482,150 in today's dollars, then the overall tax rate then, in today's dollars, will be only 29.6% instead of today's 72.3%—achieved simply by entering into a no-money-down, non-amortizing installment contract coupled with a monetization loan. That's more than equivalent to eliminating the double tax.—Stan Crow