Graydon Garner, Certified Financial Planner in Stamford, Connecticut, hosted a meeting of about twenty professionals, principals and advisors at the Hyatt Regency Greenwich on Thursday morning, October 23.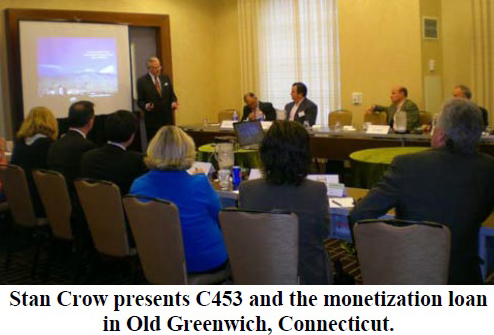 He introduced Stan Crow for a presentation of S.Crow Collateral Corp.'s "collateralized installment sale" or "C453" transaction process and the "monetization loan" which a third-party lender makes available to C453 sellers.
Stan Crow said that C453 sellers are likely to think of tax deferral as the main driver for C453 transactions. What really drives C453, he said, is not so much the tax deferral as it is that the monetization loans are done in such a way that they decrease the lender's risk and increase the lender's return (at least on a risk-adjusted basis). Because of that lending structure, he said, the "economics of the deal" are rather dramatically changed for the better for the lender.
With regard to the tax treatment of the seller and in response to a question about the tax doctrine of "form over substance", Stan Crow said, "No one calls us and says, 'I'd like to defer some kind of tax. I'd like you to put together a transaction that will do that for me.' Instead, people call us to say, 'I'm working on selling this or that asset, and I'd like to use your transaction process to make the deal as tax-efficient as possible.' So, it's the sale, not tax deferral, that is the reason for the transaction—and that is the substance of the deal. The IRS can treat a transaction in accord with its substance even when the taxpayer tries to make the form of the deal look like something else, but when S.Crow Collateral Corp. buys capital assets the form and the substance are the same: a sale."
The presentation and the group question-and-answer question lasted well past an hour and a half. One-on-one questions and discussion continued after that.
This meeting was one in a series of such sessions in various parts of the U.S.—Stan Crow