It almost seems that there's no limit to the kinds of tax and structural issues for which S.Crow Collateral Corp.'s "collateralized installment sale" or "C453" transactions can be considered as a possible solution.
Here's a new one in just the past week.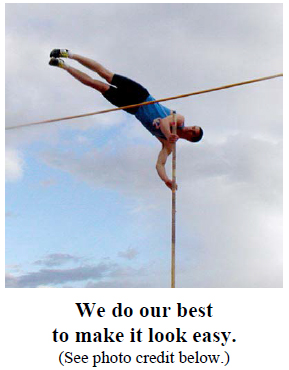 Hardy Soul is the sole owner of Sea Corporation, a "C" corporation. Hardy is ready to retire and would be willing to sell Sea Corporation to someone else. He has concluded, however, that the whole is worth more than the sum of the parts, and by that I mean that he believes that the separate assets of Sea Corporation (equipment, real estate, customer lists, contracts, and so on) could be sold for more separately than altogether to one buyer. His problem is that selling Sea Corporation's assets for cash would leave Sea Corporation with a large taxable income and few avenues for matching deductions (at least, for anything that is attractive), and next to nothing, in comparison, for him personally. So, Hardy's tax adviser approached S.Crow Collateral Corp. for a solution.
Our response is an offer to purchase Sea Corporation's assets in bulk at a price that is at or near Sea Corporation's tax basis. We'll purchase on an installment contract, naturally, meaning no money down, interest-only, non-amortizing, for 30 years, with all of the principal due at the end. S.Crow Collateral Corp. will then use Hardy's services to re-sell the assets separately, on our behalf. Sea Corporation will be left with a long-term installment contract and little or no immediate taxable income and little or no immediate cash. The present value of that installment contract will be somewhere near zilch, which means that Sea Corporation can be liquidated at little or no tax cost when the installment contract is distributed, on liquidation, to Hardy.
Meanwhile, the lender with which S.Crow Collateral Corp. works can lend to Hardy personally, up front, an amount of money that is equal to 95% of the proceeds of S.Crow Collateral Corp.'s proceeds from resale of the Sea Corporation assets. That means that Hardy will have non-taxable loan proceeds (the IRS calls this kind of loan a "monetization" loan) in his personal name, for him to invest as he pleases, without his having to try to find a way to get that money out of Sea Corporation.
The lender will agree that Hardy can't be compelled to pay more to repay the loan than S.Crow Collateral Corp. pays on the installment contract.
No sweat.—Stan Crow
Photo credit: http://woostertrackandfield.wikispaces.com/3.+Photos, Creative Commons Atribution Share-Alike 3.0 License. No changes were made.