My answer is "maybe", but the revenue won't be as much as the government expects—and maybe revenues will be less than if rates had been left where they were.
Let's start with the classic example: the "yacht tax" which the federal government adopted in

1990. It was a 10% excise tax on boats selling for more than $100,000, and it was adopted on the theory that if someone was rich enough to buy such a boat, he or she would hardly notice the excise tax, which would raise piles of money for the government.
And what happened? Yacht sales dropped to nearly zero, the yacht-building industry collapsed, 25,000 people were laid off, the government collected nearly nothing, and unemployment compensation expenses increased. The tax was such a failure that it was repealed in 1992.If the Congress and the President at the time had paid attention, they would have known about what is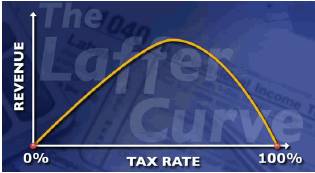 now called the "Laffer curve", a term that was coined in 1974 to illustrate what would happen as tax levels rise. The Laffer curve, named after economist Arthur Laffer of the University of Chicago, tells us that the revenues which a tax rate will produce will rise as the rate rises from zero, but that at some level taxpayers will begin to respond in ways to avoid the tax, and revenues from the tax will then decline. (See an easy-to-understand and brief explanation of the Laffer curve.)
That video reports on a study which concludes that at rates above 33%, revenues will decline as tax rates rise. I agree with the rationale, but I believe that the inflection point—the tax rate at which further increases will actually reduce revenue—is somewhat lower than 33%.
Of course, in any such calculation one must take into account the total rate of taxation on the transaction, that is, the sum of all taxes that apply to it: federal, state and local.
According to the Center for Policy Research at the American Council for Capital Formation, the average top combined federal and state capital gains tax rate is now 27.9%, without counting local taxes. In eight of the states, those rates (again, excluding local taxes) now exceed 30%. In New York City, the rate is now 32.7%, including the local tax.
Therefore, if 33% is in fact the inflection point, we're now there, and capital-gains revenues from transactions in the nation's leading financial center can be expected to be less than expected. (Now there's an interesting conundrum.)
My experience, though, tells me that the inflection point is well below 33%. If that were not so, what accounts for the billions of dollars in transactions that were done as tax-deferred exchanges or installment sales—for the sake of deferring the tax—when rates were much lower than they are now?
The top federal capital-gains tax rate is now 58.7% higher than it was last year (23.8% vs. the old 15% rate). That is a substantial increase in the difference between what an investment yields and what's left for the investor. As the Center for Policy Research points out, that means fewer investments will be undertaken (because fewer investments will meet the investor's "hurdle rate"), investors may hold their investments longer than would be economically efficient and productive (the "lock-in effect"), and fewer jobs will be created. (The Center says that each $1 billion increase in investment is associated with an additional 15,000 jobs.)
An unanswered question, as far as I know, is whether the drop-off in revenues, once the inflection point is reached, will be gradual or precipitous. We may find out.—Stan Crow