I can't begin to guess how many times I've heard people say, when they hear about what collateralized installment sales can achieve for them, "If only I had known then what I know now".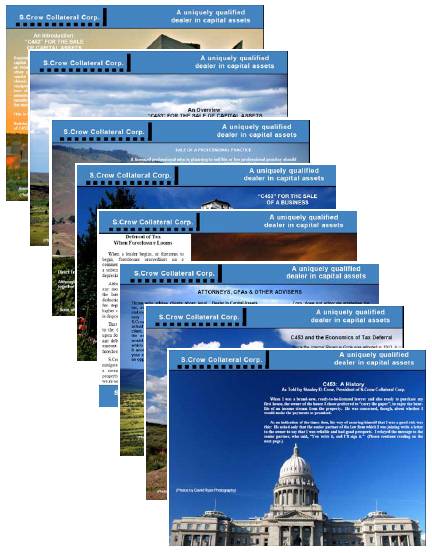 The person will often then go on to say something like one of these:
"Just a few months ago I sold _____________ and had to pay a substantial sum in capital-gains taxes."
"Recently my buyer paid in full his note to me, and I had to pay $___________ in capital-gains taxes."
"Last Fall I sold the assets of my business. We faced a huge tax at the entity level, and then we incurred a tax again when the money was distributed to the shareholders."
"In October I sold my professional practice and incurred a large tax liability on the sale."
"Along with others, a while back I invested in a commercial property which we lost to the bank when we couldn't keep up with our loan payments. According to the bank's IRS Form 1099, we have a large tax liability for "forgiveness of debt" income, even though we lost the property!"
When I hear statements such as these, they almost burst out as expressions of strong regret, that the speaker didn't know then what the speaker knows now: that a collateralized installment sale (or "C453") transaction could have mitigated or even avoided the problem. Usually the person next says, "Why didn't my CPA/attorney/broker/financial planner/investment adviser or whoever tell me?"
I can't help you with what you wish you had known then, but I can help you to know now what you will be glad you knew when now becomes then for some future transaction. A good place to start is with the new brochures which are now on the S.Crow Collateral Corp. Website, in the "Publications" list. Click on the "Publications" link above and read, or download and read, the publications which interest you. Share with friends who may benefit.
That way, you will know what you need to know when you need to know it, and you won't be left with just your regrets because no one told you.—Stan Crow